Events
Awards Day
Two days of awarding meritocratic children for their outstanding performance in academics. The awards ceremony is interspersed with cultural performances like dance, music and theatre.
Sports Day
A day to culminate all the yearlong sports competitions and awarding the successful sportspersons for the year. The events of the day include certain track events, march past and award distribution.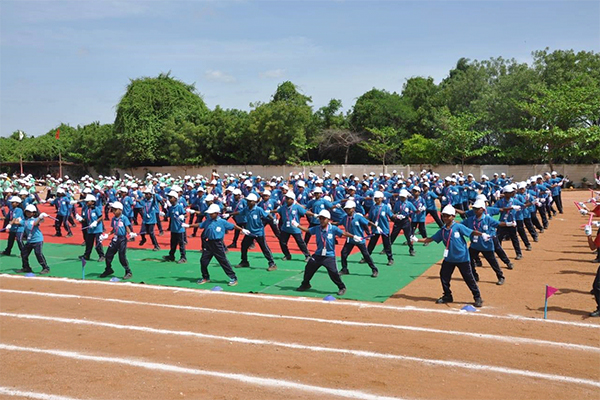 Isai Amudham
An event for children to showcase their musical talents ranging from classical music to western music and instrument solo's and accompaniments.
Salangai Oli
An event for children to showcase their dancing talent ranging from classical to folk to western dance either as solo or group performances.
Innovation Day/theatre Day/art Day/un Mock Session
Nothing can be more innovative than a student presenting his ideas on working science or their plays and art work as an exhibit.
Yoga Day
Performing yoga to promote and practice it regularly and being in unison with the nation in celebrating yoga day.
Celebrations
Independence Day
Reminding students of the value of the freedom we enjoy and taking them back to pre-independence singing glory of freedom fighters, this day is both a celebration and a promotion of a sense of patriotism.
Republic Day
Celebrated to understand the importance of the sovereignty we enjoy; we take time to pay reverence to our nation.
Deepavali
The festival of lights is celebrated with stories of the origins of the festival depicted in drama, dance and music.
Christmas
With the school Carol team singing along, the story of the birth of Jesus is depicted through drama and dance.
Pongal
Celebrating our harvest festival, with music, dance and drama.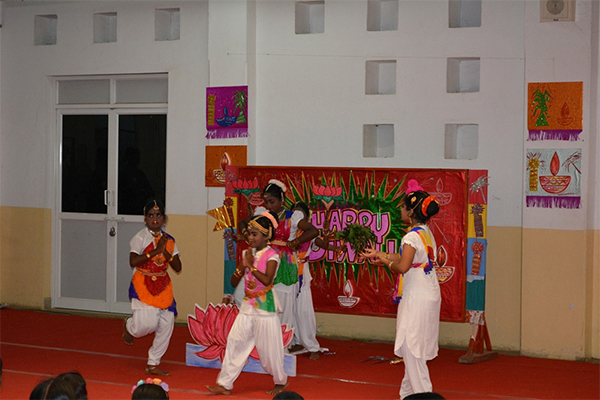 Competitions
Quiz
A fun activity enabling children's ability to think on their feet and increase awareness of current affairs, concepts and trivia. They compete as a class helping educators assess teamwork and accuracy.
Spelling
A person's vocabulary is increased with the right words and accuracy. Spelling competitions remain difficult but are necessary and fun.
Thirukural
Presenting the oldest sayings of Thiruvalluvar, we hereby preserve and celebrate the Tamil culture, and language.
Slogan Writing
In the age of social media and instant gratification, all it takes is an eye-catching sentence or two to sell any news or product. This competition enhances the child's ability to frame slogans with creativity and humor.
Act in a Minute
Even sixty seconds can do wonders, if one is persuaded to think and act for a topic within it. This competition enhances a child's ability to think on their feet, inhibits public speaking fears and increases self-confidence.
Just a Minute
Not a lot can be spoken in a minute, but that message can make or break a moment. Well, that's where thinking of precise events and words to describe the event comes into play.
English Rhymes – Poetry/Songs
Children have the ability to explore their passion and use adept expression while reciting rhymes, poems or singing songs.
Story Writing
Everyone has a story to tell. In this competition children bring out their stories with creativity and literature skills.
Essay Writing
From managing time to managing words, and working with an author's perspective, this competition enhances children's literary skills.
Painting & Drawing
Children not only explore their creative and imaginative skills, but also their artistic talents within. This competition brings out the hidden artist in children.
Rangoli
This competition is more than just preserving a tradition. It's a test for patience, creativity and drawing skills.
Competitions
Children inculcate positive behaviours and increase general awareness on everyday habits through weeklong activities and sessions conducted alongside their regular timetables.
Hygiene
Hygiene week ensures children participate in activities, projects and sessions to increase awareness and understanding on cleanliness, personal and community hygiene.
Health and Nutrition
It's not just about food, it's about what we eat. Health & Nutrition week involves sessions on natural foods and their benefits, activities like cooking and sharing meals prepared using a nutritious diet to encourage children to eat wholesome foods.
Value
Morals make a man immortal. Morality is needed to live with a clear conscience and nurturing positive morals with greater care is what's done through the week.
Environment
Restoring earth to its originality requires understanding of our surroundings and responsibility in being harmonious with the environment which is inculcated with activities and awareness.
United Nations
This week creates an awareness on the organisation, foundation, members of the organisation and goals the United Nations works towards.
Reading
It has been proven time and again that those with a reading habit have advanced intelligence, increased creativity and imagination, improved memory and improved vocabulary. This is an activity that's encouraged throughout the student's time at school – in addition the reading week, gets them to share their experience of reading and motivates them further to inculcate this habit.
Science
A week enabling students to involve themselves in small projects and display scientific facts and models encouraging young scientists to further their interest in the sciences.
Maths
To go beyond solving mathematical problems in class and work on various aspects of Mathematics, students are encouraged to involve themselves in fun activities and experiments for a greater understanding of math concepts.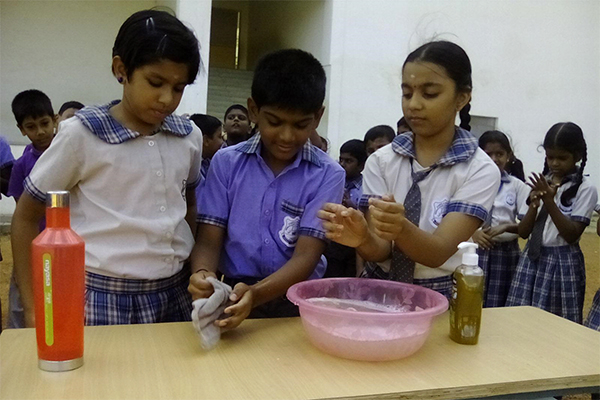 Summer Camp
To engage students during their holidays, engaging them in various activities and courses that develop the skills of students.
View More Pictures in Gallery